We know what you're thinking.  NOW, they decide to add a name to this crazed hacking attempt that is starting to spread like wildfire to a mobile phone near you.  With names like "iPhone" and "Android" becoming common chatter everywhere, smishing was bound to happen.
What is Smishing?
Smishing is very similar to phishing, but the scams result via SMS text messages that can be delivered to your mobile phone.
How Do I Spot a Smishing Text Message?
You'll receive an SMS message on your phone that can appear to be from an authentic source possibly asking you to verify information that would otherwise be private.  Many of these types of SMS messages can appear to come from banks asking you to verify your password because of a security breach, or may even direct you to a website to visit which in turn could compromise the your personal information if viewed.  Just know that most reputable institutions will not ask for information via SMS!  Always be wary of any SMS message that you receive and are not sure if it's legitimate because it's probably not.  Don't let thieves walk off with your bank and credit card information.
Following is one type of example that you can expect to see from a smishing text message: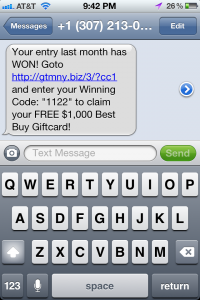 What Should I Do?
If you receive an SMS message that appears to be smishing, DO NOT respond to it.  Also, if there are links contained in the message, DO NOT click them as they can often lead you to malicious websites that may request personal information which of course you should not provide.  There are typically verifiable sources that you may contact to determine the authenticity of the message.   The easiest thing to do would be to delete the annoying messages and continuing texting away with legitimate sources.
Get Help
Most cell phone providers are joining in to wage the war against smishing, so if you find that you have a smishing message, you can forward it to 7726 so that the message can be marked as abuse.  You can also pull out the big guns and file a complaint with the Federal Trade Commission if you believe that you are a victim of smishing.  Visit ftc.gov or call 1-877-HELP (4357).